Hi, hello! Thank you for stopping in at ThoughtswithN blog! Your support means everything to me. I hope every person reading this is doing wonderful and has arrived at this blog post well. Today, I'm sharing my secret to healthy, plump, young skin! The opportunity came knocking to try a product, and I must tell you, I'm hooked. The Body Shop Canada sent me a product to test out, and they were awesome and gave me a discount code for you guys! Use code TBSINF20 for 20% off at The Body Shop Canada! You guys also know I'm obsessed with accessories, and I bet you'll find a lot you adore at my blog post all about accessories I'm loving – HERE! For skincare and make up I am a big fan of simple. (You can find all my make up essentials over here!)
Enter The Edelweiss Skincare Range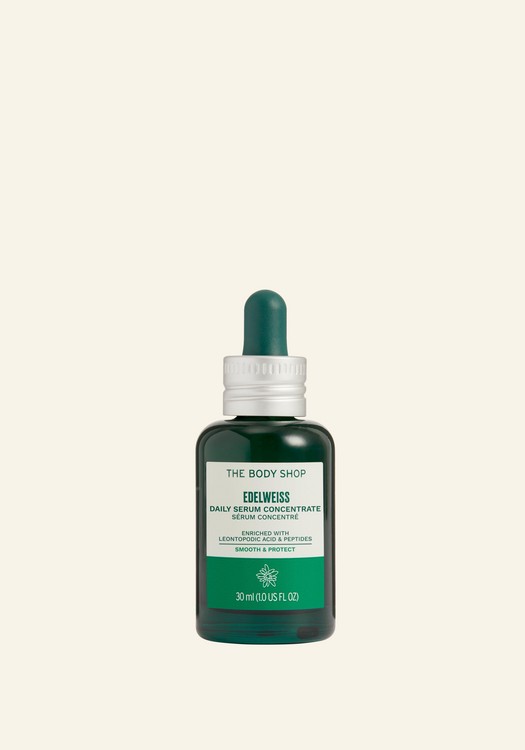 The Edelweiss Daily Serum Concentrate is a product I've personally been using and can tell you for certain that it's awesome. It smooths the skin and gives it a healthy, dewy glow. In addition, it helps protect the skin against pollution. I've noticed a huge difference. My skin is smooth, clear and feels amazing. Like actually.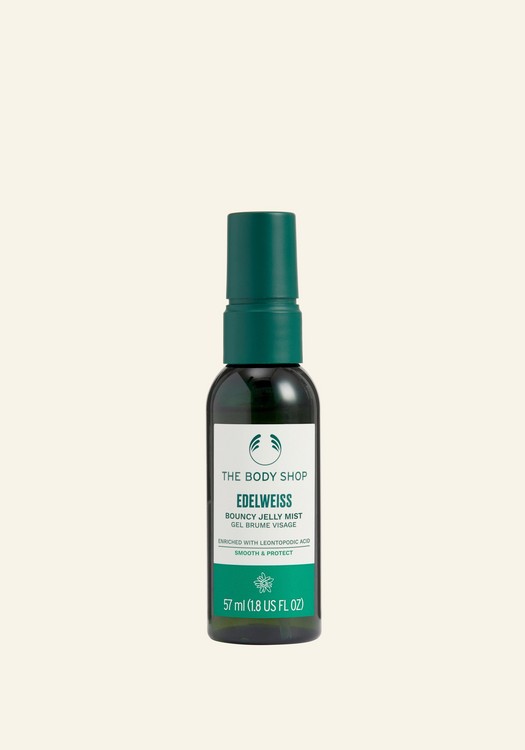 The Edelweiss Bouncy Jelly Mist is the product that I'm obsessed with. I usually am not a fan of spraying things on my face, and I was concerned that it would leave my skin feeling sticky, but that is definitely not the case. The mist hydrates the skin instantly and protects it from the effects of pollution and blue lights. All it takes is a few spritzes, and your skin is hydrated and protected. The bouncy jelly mist is good for your complexion and has even more antioxidant power than retinol. Seriously, this stuff is so amazing. P.S. – the bottle is made from 100% recycled plastic so that you can feel good about it. This is something I'm paying way more attention to lately and trying to learn about, so this is super important to me.
What is Edelweiss?
Imagine a beautiful, tiny flower that can survive even the most harshest conditions, and you have Edelweiss. The flower grows in specific mountainous places and is like a superpower product for your skin. If you want healthy, plump young skin, then you definitely want to check out the Edelweiss Skincare Line. – P.S. Don't forget to use my code to save 20%! TBSINF20
Products On My Wish List
I have been using the serum and jelly mist, but there are a few other products from the skincare line that I definitely want to add to my routine.
Sometimes I'm not a big fan of skincare ads because they look like models with perfect skin no matter what. The industry has definitely come a long way, but there's a long way to go. I'm obsessed with how diverse The Body Shop is and that they show texture. Also, the bottle is made from recycled plastic, so there's that. My experience was absolutely terrific, and I'm thrilled with the results. The shipping was super fast too. I'm a sucker for fast shipping. I hate waiting for things. This has quickly become a staple in my skincare routine, and I'm confident that if you try it, you'll love it too. Also – the savings code, right guys? TBSINF20
The Edelweiss skincare range is everything you need for healthy plump young skin. My skin is much more radiant since using the products and smooth. And my goodness, the softness of it is out of this world. It's incredible to me that it begins with such a tiny flower. The Edelweiss flower – that grows in extreme, harsh conditions, and results in amazing skin!
What product are you adding to your cart??
Love Always, Natasha
P.S. – Curious about what's in my closet lately? Don't worry! I've got a post for you – HERE!