AD – Some of these links are affiliate links which means I may earn a small commission should you make a purchase through them at no additional cost to you!
Home and front entry organization is crucial now that kids have been home for months now and many people are working from home.
Life is chaotic and busy, and houses are probably more full than usual. Mail piled up, along with home school papers in every room. What if you could combine home organization and home decor to get the desired result? It's hard to stay on top of everything, especially if you are not particularly organised.
80% of what we keep, we never use and getting rid of clutter could eliminate 40% of housework in the average home!! (amazinggoodwill.com)
Who doesn't want less housework? It's also estimated that the average American spends 55 minutes a day looking for stuff. YIKES!!!
So, how can we be better organised? Having home decor that is practical, and purposeful can be very helpful.
Here are 3 organizational home decor tricks that will save you time on housework and looking for stuff!
THE FRONT ENTRY WAY: Front entry ways tend to get very cluttered and filled with "stuff". Jackets, sweaters, backpacks, maybe even strollers and bikes, depending on your set up. To clean it up a bit try this: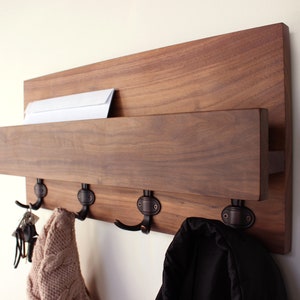 This will give everyone a space for their jacket/sweater and somewhere for you to put the mail and keys when you get in.
CatInTheBasket – White Kallax Box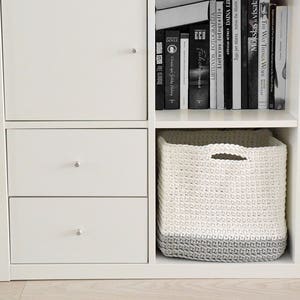 Adding something like this inside your closet if room permits can give your family a space for things like hats, sunglasses, sunscreen, etc. It gives somewhere for those things to belong.
OFFICE/DESK AREA : I struggle so much trying to keep my writing areas neat and tidy. So many papers, pens, and then my labtop, printer and more. Ay-yi-yi!
Having something to organize the papers on your desk can keep you feeling very organized.
EwartWoods – Office Desk Accessory Adding something similar to this to organize your pens, paper clips, and all those small things will make it look less cluttered.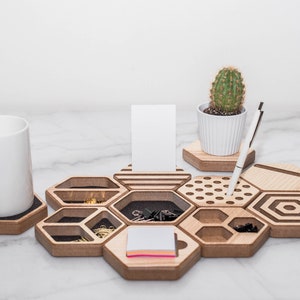 The kitchen is typically a very busy space. There is so much that goes on! Cooking, baking, eating, and then all those cupboards with who knows what in them! Counters with coffee pots, kettles, toasters, and possibly a lot of clutter. I find my kitchen to be a very tricky area to keep tidy.
First thing, clean up what's on your counter and get rid of whatever you don't need there.
A cluttered counter makes the whole kitchen look/feel cluttered.
LogoBarProducts – Counter shelf/Coffee station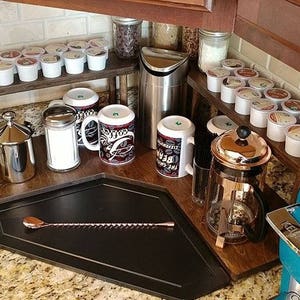 An item like this can help you maximize space while still keeping your items neat and tidy.
Label things like sugar, flour,coffee, keeping things neat and tidy. Clean up your cupboards and downsize. Really do you need 17 large plates and 30 mugs?
Downsize and tidy up. You'd be surprised at how great it can feel?
Do you have any home organization tricks?
Love Always Enn
Do you love Farmhouse Decor? Check out my post all about it!